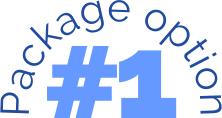 Light touch - do it yourself with our support
If you want to prepare the wedding all by yourself but maybe need a bit of help in the beginning or safety check at some point, this is the right place for you.
Legal & administration, choosing the dream venue, having the right plan in place are the most usual issues every couple can face. We are here to support you during the planning kick off that will lead towards your big day.
Choose the light touch option and you will also receive a small gift from us.

All three packages can be designed according to the dedicated budget
Not sure about which option to pick? Send us an email or use our interactive form to find what will fit you best.